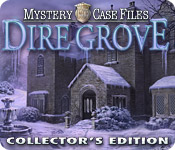 Mystery Case Files®: Dire Grove™ Collector's Edition
is another title from
BigFish games
.
In this mystery adventure your car breaks down during a blizzard - looking for help, and a warm place to wait out the storm, you make your way to a hotel that seems to be closed for the season.
01/ anorak deer sleeping bag $97.00 // 02/ kerosene lantern $35.00 // 03/ celtic knot $18.00 // 04/ mercury thermometer $7.50
05/ knot hot plates $20.00 // 06/ covered bridge print $22.00 // 07/ newspaper logs $? // 08/ vhs tapes $29.44
09/ anorak rabbit sleeping bag $97.00
It soon becomes apparent that you aren't the only one to visit dire grove during the off season; as you stumble upon strewn video tapes and supplies left by a mysterious group of young explorers you learn that there is quite a mystery afoot.
try to stay warm as you piece the story together by collecting video tapes and solving puzzles that lead you to the conclusion of the two thousand year old legend that resides at Dire Grove.
2.5/6 polly toes (the acting in those blair witch-esque cut-scenes is pretty cheesy)