Well, hurricanes and inclimate weather don't really do much for my stress levels... and while gaming is the ultimate way to unwind, a game that takes place at a spa is kind of perfect stress relief.
Nancy Drew Dossier: Resorting to Danger
Nancy is at it again! She has been invited to the Redondo, an exclusively elite spa for the rich and famous. There have been a rash of bombing incidents, that are more bad for business than dangerous - and Nancy is on the case.
01/
paul mitchell lavender mint shampoo & conditioner
$43.47 // 02/
desk zen garden
$11.30 // 03/
cucumber bath bomb
$2.50 // 04/
fluffy robe
$43.99 // 05/
face mask
$31.71 // 06/
coconut soap
4 for $10.00 // 07/
pedicure kit
$14.36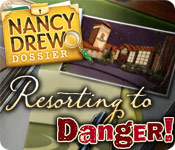 The second in the HerInteractive 'Dossier' series - these are more casual than the traditional Nancy Drew Mysteries. each scene has 'hot' items that need to be combined and used together to accomplish each scenes mini objective. Pay attention though, because you score points answering questions about what clues you have uncovered.
There is a garden maze, mud bath, zen garden & salon to keep you out and about. there is also a Pomeranian to keep you on your toes. Give guests facials and solve the mystery! Not a bad way to spend a rainy day.
5/6 polly toes